TV Licence Phishing Emails
In the UK a licence is required to watch live TV in the home. With lockdown continuing and people's reliance on entertainment increasing, It is unsurprising that in the UK, criminals have increased the amount of tv licence phishing emails they have been sending in the latest coronavirus lockdown.
As most people pay their TV licence by direct debit, a popular tactic is to send an email purporting to be from the TV Licencing authorities stating that the direct debit has failed and that the recipient needs to update their details through the link provided.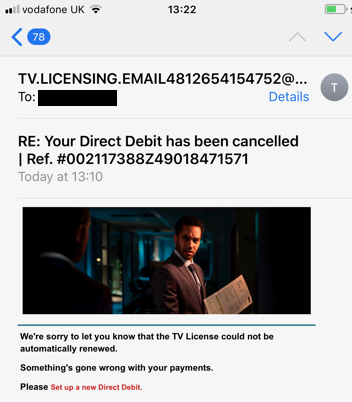 5 ways to spot TV Licence phishing emails.
1. Like most phishing emails that are sent to a lot of people, TV licence phishing emails will have a lack of personalisation, they won't include your address or account number because they don't hold that information.
2. They may also appear to come from an unusual email address such as a gmail or other email provider. Genuine TV Licence emails come from [email protected] (or [email protected]) .
3. The domain is misspelt. TV Licence scam emails will often point to suspicious websites when you hover over the link.
4. Like many forms of social engineering, a tv licence phishing email will frequently attempt to get you to do something urgently, either to stop your licence from lapsing and losing the service or be fined, or to offer you a refund or discount that needs to be acted upon immediately.
5. Historically phishing emails often had poor spelling and formatting, it is now easy to create an exact copy of a genuine email and simply change the links, however if there are spelling and grammatical mistakes, it is unlikely to be a genuine email.
If you have a concern about your licence, google TV licence UK and log in to your account there. Don't click the links in the email.
How to identify a genuine TV Licence email
The TV licencing authorities has put out an image to help users identify email that really come from them. (see below)
Whilst one of the points -that it includes part of the postcode is something a mass mailed phishing email is unlikely to include, relying on such things as your name, spelling and in particular links is not recommended as any organised phishing campaign will have these details covered.
What to do if you think you have a problem with your TV Licence
If you have a concern that there might be a problem with your TV licence, don't click on the email, just Google "tv Licence UK" and go to the first result. Login and check the status of your licence. You can also check your online banking to make sure payments are up to date.
How to report a TV licence scam email
If you think you have received a phishing email you can report it to [email protected] where it can be added to a blacklist.
Tv licencing scams aren't just don't by phishing, these can be done over the phone in a vishing attack or by text message or SMS, also known as smishing.
For more information visit the TV licencing scam page : https://www.tvlicensing.co.uk/faqs/FAQ288